Dr. John Wood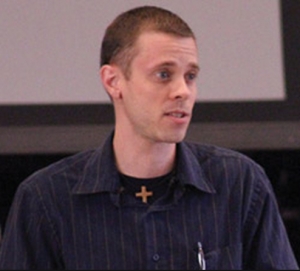 Travels from Toledo, Ohio
Dr. John R. Wood is author of the book "Ordinary Lives, Extraordinary Mission: 5 Steps to Winning the War Within". He grew up in southwest Ohio where he first discovered the war within on the sporting field. John was an Ohio High School state champion in Track and Field in 1998, and went on to the University of Findlay, where he became the 2002 NCAA All-Ohio indoor track champion in the 800m run and a provisional qualifier to the NCAA Division II track and field national championships in the 800m run.
John is very active in his faith and his local Catholic parish. John and his wife Kristin's dedication to the faith earned them the 2011 Centurion Award from the Diocese of Toledo, given for "Outstanding service to their parish."  John is a passionate speaker and has been invited to speak at numerous events and parishes. He teaches and speaks on a variety of topics including The Theology of the Body, the Saints, the Church, Mary, The Great Adventure bible study, and his new education program for children and adults, Saints in the Making University (SIMU). He implements the five steps to winning the war within into every topic he speaks on. 

John and his wife Kristin currently reside in northwest Ohio with their four children. John is a mobile eye doctor, and he travels to over 40 nursing homes and developmental disability facilities to provide eye care through his business, Mobile Eyes, LLC, which he started in 2007.